Accident Injury Doctor in Delray Beach, Florida
If you have been hurt in a Car Accident in Delray Beach, Florida, let the network of Accident Injury professionals at Car Wreck Doctor help you recover physically and receive compensation for your injuries and medical treatments.
Our Accident Injury Clinics in Delray Beach, FL specialize in the rehabilitation of the victims of car accidents.

Our Chiropractic Doctors have the medical training to diagnose and treat the types of injuries sustained by these victims.
While we work with our patients throughout the healing process, we also make sure that our clients legal needs are met by setting up a free consultation with a Personal Injury Attorney.
Car Accident victims go through tremendous amounts of physical and emotional trauma.
Seeking medical treatment from a medical professional as soon as possible after your accident is vital to both your financial and physical recovery.
Car Wreck Doctor Chiropractors have at least 10 years of experience working with car accident victims and understand the legal issues that these clients face.
They will prepare and keep track of all of your medical records and communicate with your attorney to put as little stress on you as possible.
If you have been hurt in a Car Accident in Delray Beach, Florida, contact our Accident Injury Chiropractors today for a free consultation.
What to do After a Car Accident in Delray Beach, Florida
Car Accidents are a common occurrence in Delray Beach, Florida and leave the victims in need of treatment from experienced medical professionals.
Car Wreck Doctor provides these victims with access to the medical professionals they need to assist them with their recovery and help connect them with an attorney.
If you have been in an auto accident, there are some steps that you should follow to make sure you can recover physically and financially.
1. Call Emergency Services: Priority number one after being in a car accident is to contact the authorities. This will ensure that there is a written record of your accident and if anyone is seriously hurt, that they get immediate medical attention.
2. See a Medical Doctor: Even if you do not receive medical attention at the scene of your accident, you should seek it within 48 hours of the incident. Many injuries take the time to show symptoms, and if they are not diagnosed as soon as possible, they can cause permanent damage and be left out of any potential lawsuit.
3. Contact a Car Accident Attorney: Once you have contacted the authorities, and received medical treatment, it may be necessary to contact a PI attorney.
Common Car Accident Injuries
No matter how severe a car accident is, serious injuries with long-term health effects can be the result. The Accident Doctors at our Delray Beach office treat many different types of accident injuries.
The most common injuries we see from our car accident patients are:
Whiplash

Neck Injuries

Chest Injuries
Back Injuries

Spinal Cord Damage
Soft Tissue Damage

Concussion
Treatment for the Victims of Car Accidents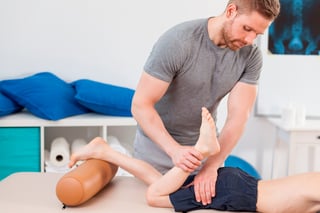 Recovering from car accident injuries can be a long and tiresome process.
That is why seeking treatment as soon as possible from an experienced medical professional is necessary for a fast and full recovery.
Car Wreck Doctor works only with accident injury professionals who have at least ten years of experience.
We require this so that our clients can rest easy knowing that their physical recovery and legal rights are in the best possible hands.
Chiropractic Care
Depending on the injury that a patient has suffered, our Chiropractic Doctors will perform therapeutic techniques such as:
Chiropractic Mobilization - the use of manual manipulation to move and stretch joints and muscles to increase the range of motion and flexibility.
Spinal Decompression, Subluxation, and Manipulation - the use of different amounts of pressurized thrusts to improve functionality, restore range of motion, and reduce pain caused by irritated nerves.
Pelvic Stabilization Drills - these drills are used to treat lower back pain by strengthening the lumbar muscles so that less stress is put on the lower vertebrae.
Electrical Muscle Stimulation - uses electrical impulses to contract the muscles in the way that the nervous system does to increase strength and rehabilitate the muscles.
Ergonomic Training - the goal of Ergonomic training is to increase efficiency and improve posture to decrease injuries in the work place caused by harmful patterns of posture and movement.
Chiropractors use spinal adjustments, manipulations and other therapeutic methods to realign the spine and restore the body to its correct posture. Once the spine is properly adjusted, the pressure on the spinal nerves and vertebrae should be alleviated and pain reduced.
Chiropractors use non-invasive treatment to help the body restore it's normal function without the need for surgery or dangerous pain medication.
Chiropractors work with each patient individually. A thorough examination will be completed in order for the doctor to come up with a treatment plan that is tailored to the patient's injuries. This makes for a fast and optimal recovery.
Contact Our Accident Injury Doctors in Delray Beach, Florida
If you have been injured in a Car Accident in the Delray Beach area, it is crucial to seek help from an experienced Accident Injury Doctor.
Our Delray Beach Accident Doctors have the needed experience and skills to help with your recovery and can refer you to a personal injury attorney to protect your legal rights.
If you would like to speak with a Car Accident Injury Doctor in Delray Beach, Florida, click on the link below for a free consultation today!