CHIROPRACTORS FOR WHIPLASH INJURY CARE
Our Nationwide Team of Chiropractors Are Respected In Their Profession for Whiplash Treatment of Car Accident Patients
NO UPFRONT MEDICAL COST!
Call Us 855-200-6063
Whiplash Treatment After a Car Accident
If you were involved in a car accident and have suffered whiplash, you need to see a chiropractor to properly evaluate your injuries and symptoms.
Our certified and professional doctors specialize in treating auto accident injuries, such as whiplash.

Click below for a Free Consultation and get a personalized whiplash treatment plan that is fit for you and your specific injuries.
Why is whiplash so prevalent during car accidents?
While an automobile is built to take a slow 8 to 10 mph low impact crash, the same cannot be said for the human body.
The most common injury suffered in a low impact rear-end car accident collision is whiplash, which is a soft tissue injury caused by the rapid acceleration or deceleration (the vehicle collision) and causes a snapping of the neck back and forth. This causes the spine to travel beyond its normal range of motion
The muscles and ligaments supporting the spine may then become torn, and the spinal discs may bulge, tear, or rupture.
Common Whiplash Symptoms
Despite the violent nature of how whiplash occurs, you may be surprised to hear that whiplash symptoms are not immediately prevalent at the time of the car accident.
In fact, most common whiplash symptoms occur in the days following the accident. This could be 24-48 hours or it could even be a week later.
Your neck and back muscles may begin to feel sore and stuff due to the stretching and tearing of your muscles and ligaments as inflammation sets in.
Additional symptoms include:
Neck pain and stiffness
Low-back pain
Low back stiffness
Muscle spasms
Dizziness
Headaches
Shoulder/arm pain
Tingling or numbness in the arm, wrist or hand
Ringing in the ears or blurred vision
Difficulty concentrating or remembering
Irritability, sleep disturbances, fatigue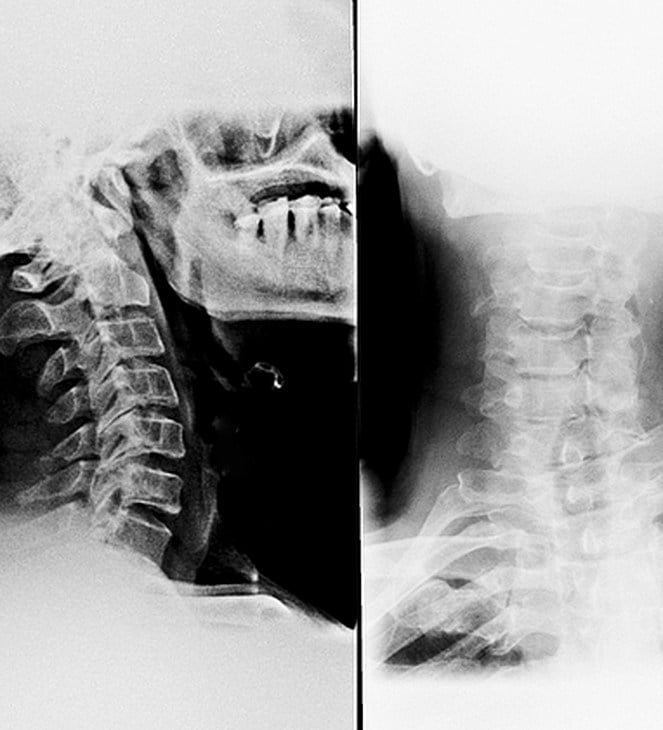 Whiplash Treatment Methods
Chiropractic care has been proven to be exceptionally successful at treating whiplash injuries. A simple two-week treatment plan could rid your body of whiplash symptoms permanently.
However, if you opt out of treatment, you could experience painful, chronic symptoms longterm.
We don't want anyone to suffer whiplash symptoms longterm - especially when this is a completely treatable injury.
Common treatment methods that our whiplash doctors utilize include:
Physical medicine modality procedures (e.g. muscle stimulation)
Laser therapy
Ultrasound
Physical rehabilitation (supervised stretching and strengthening exercises)
Massage therapy
Manual therapies ( e.g. myofascial release, acupressure, and trigger point therapy)
Spinal traction
How our Whiplash Doctors Handle Costs
The chiropractors billing office will bill the at-fault driver's insurance company immediately, making sure you don't pay any out-of-pocket costs.
During your first visit, please bring the accident report and the at-fault party's insurance information.
If the injury occurred at your place of employment, make sure to bring in your workers' compensation information.
When you come to the chiropractor, you will receive diagnostic assessments including:
postural assessments
x-rays (unless you are pregnant or there is a medical condition preventing you)
trigger point palpations
compression and range of motion testing
After these evaluations are performed and the results are analyzed, you will receive chiropractic services right away.
We wait until after your case has been resolved to get paid, allowing you time to recover before dealing with any expenses.
Get Chiropractic Accident Care Today
There are over 27,000 documented car accidents on average per day in the US! That means there are a lot of individuals suffering from whiplash symptoms.
Don't delay treatment and risk suffering from chronic pain. Our whiplash chiropractors have been treating auto accident injuries for decades.
Let us get you in contact with the top local whiplash doctor near you today.
Don't wait for word from insurance companies before you seek medical attention, call or click the button below to get in contact with one of our whiplash chiropractors today!
Relieve Your Whiplash Pain Today
Schedule a FREE consultation with our Whiplash Doctors